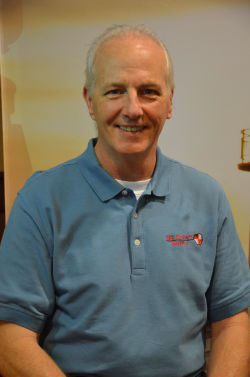 Rod Taylor, the guy who started it all Who We Are
Rod Taylor started US Survey Supply a few weeks after the terrorist attacks of 9/11. Since the sale of that first Nikon C-100, things have changed quite a bit! We still deal in older instruments like that old Nikon, but now stock more advanced surveying instruments all the way up to current-generation gear.
From Bandon-by-the-Sea on the southern Oregon coast we now service customers around the world with premium survey equipment and software. While we most often work with customers in Oregon, Washington, and California we have customers in just about every state and many countries. Regardless of location, we strive to meet our customers' needs with a personal touch and integrity.
We deal with instruments from all first-tier manufacturers such as used Leica, Trimble, Topcon, Sokkia, Nikon, and new Carlson and GeoMax. We do not sell Chinese brand total stations. Because we handle them all, we're able to honestly tell you the advantages of particular instruments and thus help you to make a better-informed decision.
We specialize in products from Carlson, GeoMax, and MicroSurvey as well as used total stations, robotic systems, GNSS systems, and data collectors. We service what we sell as well as what we didn't sell.
We have a full offering of accessories from quality manufacturers like SECO, AGL, Satel, LaserLine, and Safety Apparel, and can meet most software needs with excellent offerings from Carlson, MicroSurvey, Datumate, and SiteComp.
Fred Perry, PE Carlson office software solutions

Gary Hickman, PLS, PE Training & Sales Rep

Mark Jumps, GIS specialist and Southern California sales

Greg Huddleson, California hardware sales

Isaac Taylor, Office Support & Sales