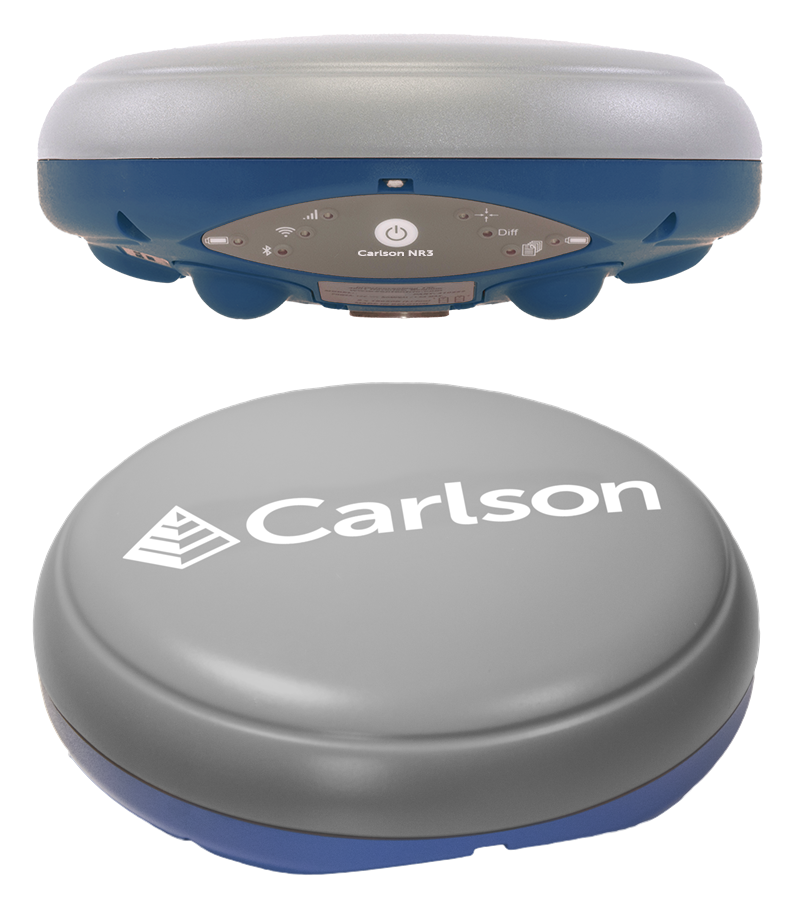 Carlson NR3 Net RoverCarlson NR3 Network Rover
The Carlson NR3 is a compact GNSS Smart Antenna designed for Network Rover applications. The light weight NR3 combines with a prism on a survey pole to make a very portable yet complete assembly to operate with GNSS and a Robotic Total Station simultaneously using SurvCE/PC 6.0 with Hybrid+.
In addition to being small and low weight, the Carlson NR3 leverages powerful satellite navigation technology for reliable RTK GNSS. Multiple satellite constellations provide simultaneous measurements for delivering accurate positions globally in very demanding conditions.
GNSS Technology
The NR3 utilizes 4 constellations to produce reliable GNSS RTK, with triple-frequency tracking on GPS, GLONASS and Galileo. The solution incorporates multipath and ionospheric detection algorithms to maintain accuracy, while exhibiting stable satellite tracking during shocks or vibration. The lightweight NR3 receiver may be used as a Base or Rover.
Wireless Communications
The NR3 has an integrated 4G LTE cellular modem, Wi-Fi and Bluetooth for modern wireless capabilities. Carlson's Listen-Listen service allows Base/Rover operation via the cellular modem for better correction transmission ranges compared to traditional terrestrial UHF radios.
SurvCE/SurvPC
The new Hybrid+ feature allows simultaneous interaction with GNSS and a Robotic Total Station, with the GNSS and prism both mounted on the survey pole.Hybrid+ provides increased Quality Control as there are two instruments measuring the same point. In addition, GNSS position at the pole allows a faster prism acquisition than traditional searching, as well as improved tracking.Hybrid+ allows easy setup anywhere using GNSS coordi-nates, and minimizes common survey challenges from stray reflectors, false fixes and obstructions.