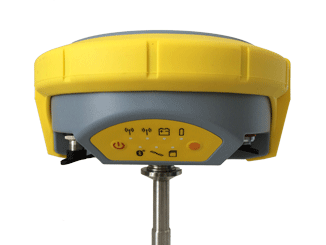 Zenith25
Zenith25 Pro GNSS Receiver
With an internal radio and 3.75 G Pentaband GSM, the full support of GPS, GLONASS, Galileo, BeiDou and SBAS systems the Zenith25 Pro Series is truly future proof. Combining all those technologies with Q-Lock™, the Zenith25 Pro is suitable for any application.
Zenith25 Pro receivers are built to last and are tough enough to withstand a 2m drop onto a hard surface and total submersion in water.
Extremely Rugged
IP68 Dust and Waterproof
Withstands a 2 m Drop
Vibration Resistant
Future Proof
Quad-/Penta Band GSM/GPRS/UMTS
UHF Radio and Bluetooth®
True GNSS: GPS, GLONASS, BeiDou, Galileo & SBAS
Versatile Handheld
Camera, Compass, Altimeter
Meets Military Standards
Optimized for GeoMax
* Call us @ 866-USSURVEY for best pricing!
** Not all configurations are necessarily in stock; please allow up to two weeks for delivery and as always, if you have questions we welcome your call or email.
---
RECEIVER SPECIFICATIONS

AdVance® technology: High fix availability + reliability

Max. No. of satellites: 60 satellites simultaneously

Channels: 120, dual frequency

GPS tracking: L1, L2, L2C


GLONASS tracking: L1, L 2

BeiDou tracking: B1, B2

Galileo tracking: Supported*

Positioning rate: 20 Hz, 5 Hz

SBAS: EGNOS, WA AS, MSAS, GAGAN


RECEIVER ACCURACY**

Static horizontal: 5 mm ± 0.5 ppm (rms)

Static vertical: 10 mm ± 0.5 ppm (rms)

Static long horiz.:3 mm ± 0.1 ppm (rms)

Static long vert.: 3.5 mm ± 0.4 ppm (rms)

Kinematic horiz.: 10 mm ± 1 ppm (rms)

Kinematic vertical: 20 mm ± 1 ppm (rms)

QUALITY MODE

Selectable: ExtraSafe, Standard

INTERFACES

Keyboard: On/off and function keys

LED status indicators: Position, battery, Bluetooth®, RTK receive, RTK transmit, storage card

LED mode indicators: Rover, base, static

Data recording: MicroSD card

GSM/ TCP/IP: Removable SIM card

COMMUNICATION

GSM/GPRS module: Quad-Band GSM & Penta-Band UMTS 800 /850 /900 /1900 /2100 MHz

UHF radio module: 1000 mW transceiver, 406 – 480 MHz

Bluetooth®: Device class II

TNC connector: UHF antenna


Communication port: USB, serial & power

POWER SUPPLY

Internal battery: Removable 2.6 Ah / 7.4 V

Operating time: 9h in static / 6h in rover mode

External power: 10.5 V to 28 V

PHYSICAL SPECIFICATIONS

Dimensions: Height 95 mm, ø 198 mm

Weight: 1.2 kg incl. battery & UHF radio

Operating temp.: –40°C to 65°C

Protection class: IP68 dust and waterproof

Humidity: 100%, condensing

Vibration: Mechanical stress resistant according ISO 9022-36-05

Shock: Withstands 2 m drop onto hard surface
* The optional Galileo tracking will be made available once there
are sufficient satellites.
** Measurement accuracy and reliability are dependent on various factors
including satellite, geometry, obstructions, observation time, ionospheric
conditions, multipath, etc. Figures quoted assume normal to favorable