All-inclusive magnetic locator with simple, one-handed operation plus digital metrics.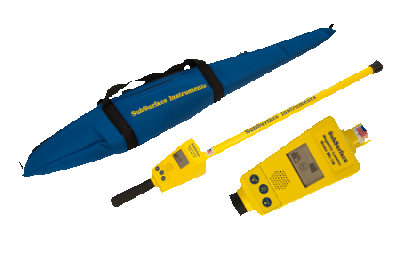 SubSurface ML-1M
The ML-1M is one of SSI's longest-enduring and industry-leading products for magnetic detection. Whether you're seeking corner markers (iron or steel), well casings, steel drums or septic tank handles, this is the go-to magnetic locator for you.
And for good reason. The ML series offers simple one-handed operation with an easy-to-learn keypad featuring only three buttons - no menus or cumbersome instructions to follow. The audio unit has the volume built into the on/off key; just hold down the key while it cycles through the settings. The ML-1M features strong monotube construction, providing structural integrity you can count on.
In addition to the features of the original ML-1, the ML-1M is metered, offering you added features without added complexity. The digital meter provides for visual signal strength, polarity indication, gain setting plus battery life display. These versions are engineered to operate identically with the same controls.
Long magnetic locator offers durable one-handed operation that's 100% waterproof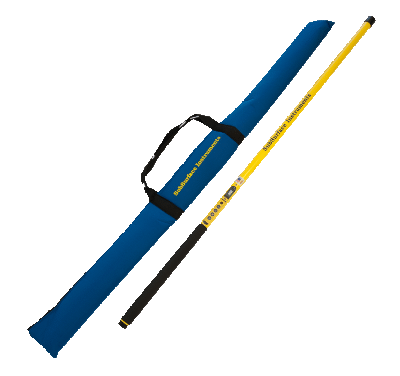 SubSurface ML-3
The ML-3 is a much-anticipated and welcome addition to the ML family of magnetic locators from SSI. ML-3 magnetic locators represent the best in innovation at work for the water/sewer industry, surveying industry and military.
That's because the ML-3 reflects many of the items on our customers' technological wish lists. The ML-3 long is 55", making it the longest magnetic locator on the market. It allows you to make the biggest sweeps possible without compromising on accuracy. The ML-3 long provides ergonomic, lightweight, durable, one-handed operation option to traditional magnetic locators. It offers unparalleled durability, as all components are housed inside the aircraft-grade aluminum monotube units.
But don't let its looks fool you. It's 100 percent waterproof up to 220 feet - a first for the industry - so it can be used in difficult weather and submerged under water. Plus, its auto-zero feature allows the user to "cancel" ambient magnetics or magnetic gradient in the soil or water. And it's digitally tuned, so it offers unparalleled accuracy in detecting ferromagnetic objects.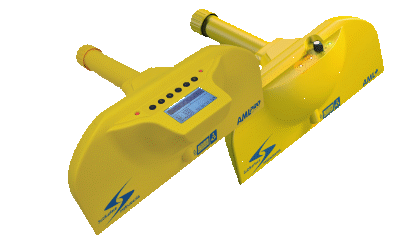 SubSurface AML Pro and AML+
Find Buried PVC/PE Pipes Using GPS & Advanced Digital Patented Technology.
The All-New AML PRO™ is a scientific instrument that utilizes ultra-high radio frequencies to find differences in densities. This offers the best method for locating PVC & PE pipes and nearly any other object that has an edge.
New Microprocessor Intelligence
Patented Radio Wave Technology
Lightweight Construction (2.5 lbs.)
Noise Isolating Headphones
Rechargeable Lithium Battery
Customizable User Preferences
USB Powered Port
Durable ABS Housing
Backlit Display
GPS Plotting & Tracking
32 Sensitivity Settings
Digital Leveling Meter
Digital Targeting Indicator
3 Year Limited Warranty